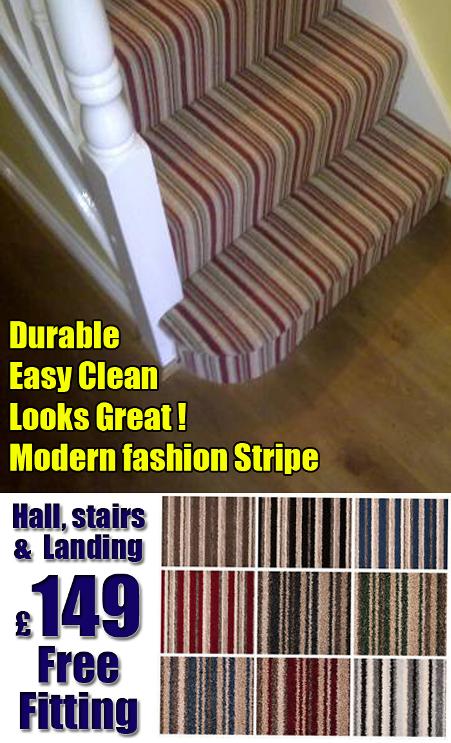 This is one of my best selling carpets in Stoke and for good reason
FREE FITTING on all Carpets

Very Durable
Stain-free

Bleach

Cleanable

Comfort Felt Backed
3 Great Colours

Great Price

Free Door Bars

Fast Fitting


This hard wearing carpet is fine for any room in the house. It is particularly popular for the stairs and bedrooms. I also have a plain and graphic with matching colours so the style flows from room to room.

FREE FITTING on all Carpets In Stoke on Trent
Carpet Straight Down
Lounge from £125

Bedroom From £95

Stairs From £145

Full House From £399
Carpets With Underlay
Lounge from £165

Bedroom From £125

Stairs From £175

Full House From £499
Striped Carpet is very popular especially on stairs. I have all qualities from budget ranges through to very heavy contract striped carpet.
Striped Carpet makes a instant impression and suits both modern and traditional decors.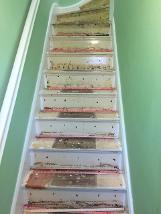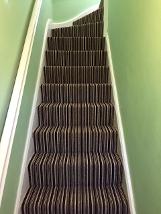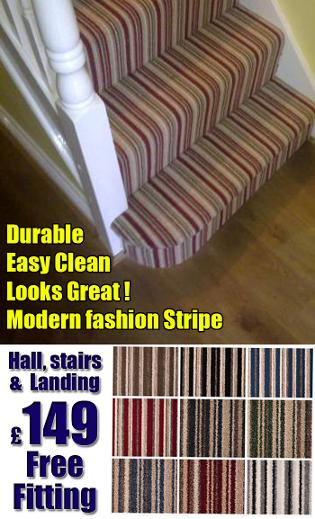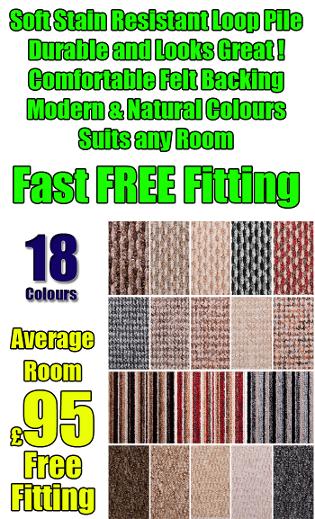 There are a few things to think about When selecting a striped stairs carpet.
Are you looking for a bold design and color that's going to make a statement? Or a colour that's going to blend in to other floors in the house, if its going on the stairs a wide stripe is not the best choice if the stairs has turns as will not pattern match. A narrow stripe is probably better on winding stairs.

Striped carpet is not only fashionable its also useful for correcting room dimensions. Thin Striped carpets lengthen rooms, and bold wide stripes open up a room, making striped carpets ideal for hallways and stairs in fact any room in the house. Striped carpets also work well in a child's bedroom as they will hide stains and marks very well. It's also a style that your child won't grow out of as they get older. Plus with multiple colors to pick up on redecorating and changing themes is easy.


Striped Hallway Stairs and Landing Carpets
A striped carpet makes a fantastic statement on the hallway staircase and naturally draws attention up to the landing above with tasteful lighting and wall accessorizes it will enhance any home.
Walls should be kept pale and light so the scheme doesn't feel too boxy.
Striped carpet is ideal in a busy house in areas such as the hallway and stairs which get heavily traffic as it will withstand the effect of dirt and wearing more so than a plain carpet.